We are thrilled to introduce the 2019 Wheelock Conference

Student Team
The Dartmouth Apologia is a student-run journal of Christian thought which articulates Christian perspectives in the academic community. Founded in 2006, Apologia semiannually publishes articles written to promote dialogue and provide an apologetic for the Christian faith. The journal aims to stimulate discussion about the integration of faith and reason by being intellectually rigorous in its approach to religious ideas while bringing spiritual purpose to mainstream academic discourse. The Apologia holds the award for "Best Publication" at Dartmouth and has been mentioned in the Wall Street Journal for its innovative work.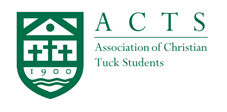 The Association of Christian Tuck Students (ACTS) is a community of believers at the Tuck School of Business dedicated to sharing God's love and encouraging its members. ACTS does this by providing opportunities for members of the Tuck community (of all faiths) to explore, renew, and/or deepen their Christian faith; creating fellowship groups to discuss the application of God's word in business; and developing networks to help students grow in Christlikeness while at Tuck. ACTS hosts a weekly Bible study and dinner, and regularly organizes fellowship events open to the entire Tuck community.
The Eleazar Wheelock Society is a non-profit organization that provides resources and environments for Dartmouth students, faculty, and alumni to elevate reason and academic rigor, promote development of robust ethical value systems, stimulate constructive discussion among faiths, and share Christian perspectives. EWS engages the personal, professional, and financial resources of Dartmouth alumni to foster relationships between alumni, current students, and campus ministries, partnering with Dartmouth College in its mission to prepare students for a lifetime of learning and responsible leadership.